Sparking a career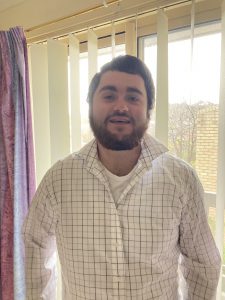 James Welch was in a hospital bed when he got a call telling him he'd won an Adult Learners Week scholarship. 'It didn't feel real. I was pretty feverish and on medication at the time so it felt like a dream. I was surprised and shocked and thrilled.'
Back home from hospital James has had time to take in the news and is grateful to his teacher Fran Handoko at Canberra Institute of Technology (CIT) for nominating him. 'She is so encouraging and inspires a really good work ethic.'
James is a student in the 13 week SPARK program for young Canberra jobseekers. He joined the program in 2021 four years after he finished high school. 'I didn't have any plans when I left high school, it was an achievement to get through and I hadn't thought much beyond that.'
The SPARK program offers participants a chance to try a range of different occupations over 13 weeks including construction, plumbing, horticulture and early childhood education.
James discovered he has a practical streak and a love of working in teams. He also enjoyed the opportunity to see that he had made big steps forward.
'I was getting a lot of positive feedback that showed me how much better I was at being organised and allocating time effectively, which had been a problem for me in the past.
'I also felt a real sense of community with my classmates. We were a small group and by the end I really felt like I had made friends and we knew each other really well.'
As for the scholarship, James will use it to further his education by studying horticulture. 'In class we looked at projections for careers and income in agriculture and horticulture and it's going to be a real growth area,' James said. 'And I've always loved working with plants.
'I'm just blown away to be offered this scholarship. It will really help with the costs of doing my horticulture course. It will be great not having that debt hanging over me.'
See the full issue of Quest 3, 2021