First aid for mental health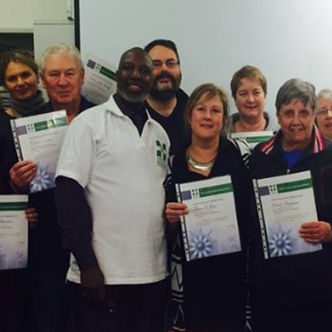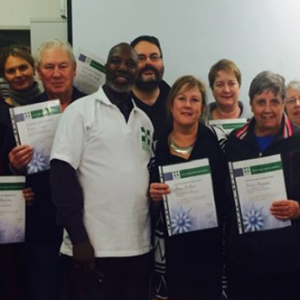 Diamond Valley Learning Centre in Greensborough Victoria is running mental health first aid courses to help staff and students develop skills to identify and help others who are struggling emotionally.
If a tutor or student accidently cuts themselves during a cooking class or hammers a finger instead of a nail in a workshop, you know to reach immediately for the first aid kit. But what do you do when someone in your centre is having a mental health crisis? Diamond Valley Learning Centre recently ran its first Mental Health First Aid course to find out. The course trained participants in how to recognise when someone is going through a mental health crisis, and how to help them get through it. Course leader and mental health first aid instructor Francis Acquah has 25 years experience as a mental health nurse. He knows from first hand experience how important it is for people who might be struggling emotionally to get help sooner rather than later.
'As a mental health nurse I worked in triage, at the preventative end of the service where we were able to assess people and do some early intervention. But I'd go and visit the ward and there'd be all these people who'd been admitted because they might have been violent or they'd been brought in by the police. It was so frustrating because so many people didn't seek help until they'd hit rock bottom.'
You don't have to be a mental health professional to be helpful, Francis says. Learning the skills for making that first approach and taking that first step to talk about what might be troubling someone is key.
'We can often feel fearful about approaching someone we see might be suffering. But you don't have to be an expert to offer someone support.'
'I teach people how to assess situations and listen non judgmentally, to invite the person to talk about the problem and follow up afterwards. Having the skills and the right approach you can make a big difference in people's lives.'
'I aim to give people a good knowledge of warning signs of depression and anxiety, drug and alcohol problems so they can intervene early and make sure people get help.'
Tuning into the signals of mental distress

The course is not designed to turn participants into psychologists, or to teach people how to diagnose or treat a mental illness, much like someone trained in physical first aid isn't expected to be able to set a broken arm. But it does help people pick up mental distress signals.
Francis has taught doctors, nurses, financial counsellors, lawyers and adult educators – anyone who might be working with people who could be in mental health distress. The twelve-hour class is structured around an action plan that covers steps including how to approach, listen and give support to someone in distress and how to encourage them to seek help.
'Every class is different. I tailor the training to the needs of the group. But I always include opportunities for people to talk, share experiences and interact. I use video, group work, scenarios and small group discussion – all of these help participants develop confidence and skills and knowledge.'
For most of us a piece of bread burning in a toaster that triggers a fire alarm is little more than an annoying interruption to our work day. But for people from war torn countries or who've experienced bushfire, a fire alarm can trigger panic and distress.
Renee DeBeer, Diamond Valley Learning Centre's volunteer coordinator says it is incidents like these that prompted her to investigate setting up a Mental Health First Aid course.
'I wanted to get the knowledge and the tools to be able to approach people I can see might be struggling and to be able to better nurture our team of volunteers.
'It was a fantastic course. I feel well equipped and know now what to say and what not to say. I'm more observant now. I notice symptoms and signals. For example, I'll notice now if someone seems a bit withdrawn, or if their work isn't up to scratch or if they might look unusually scruffy. I see these signals and I'll make an approach and say, "Are you all right, do you need to talk?"'
'In the past I wouldn't have said anything and I'd leave people to battle on their own because I wouldn't have known what to say and I'd be worried about making things worse.'
'We have a lot of EAL students and we really have no idea what they have been through before they came here. It's very hard for them to find work, they have visa worries, money worries and so they're under a lot of stress.'
'Diamond Valley Learning Centre is a lively vibrant place, there's always food on the table, people to meet and talk to and that attracts our volunteers. But regardless of the brave, professional mask people put on, for some volunteers it can be hard not to bring their problems to work. Some of our volunteers are looking for a social environment to work in because their partner has died or their family has moved away. Others are people wanting to get back into the workforce and are working here to help them get back into the swing of things and they can face all sorts of pressure too.'
Renee has used the training a lot since she completed the course. Now she feels more able to talk to someone she notices might be having difficulty.
'I will take the person aside and ask them how they're going. Often that's all the invitation people need and they might say "I'm having a terrible day" or "Things at home are really bad".'
Her goal is to help people with information and support until they can get professional help. Renee says she's overcome her fear of saying the wrong thing and is more confident about broaching the subject of mental health. She believes she's a better people manager as a result.
Diamond Valley Learning Centre
Mental Health First Aid Australia
Photo credit: Counselling and Support CC BY SA 2.0
See the full issue of Quest 1, 2016
Save
Save
Save
Save
Save
Save
Save
Save
Save
Save