Igniting the artistic spark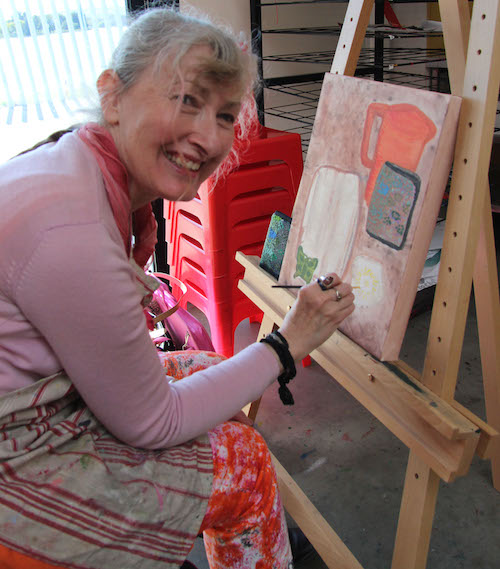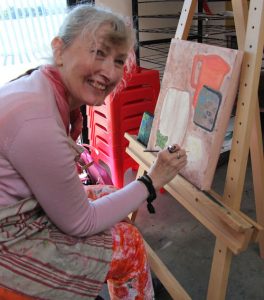 Since it opened its doors in 2009 Belconnen Arts Centre has aimed to fuel a love of and engagement with the arts among its increasingly diverse community.
The IGNITE Alternative Arts Academy established in 2015 is a program that puts inclusion front and centre. IGNITE aims to attract and engage people with physical and psychosocial disability, who often experience barriers and challenges in accessing the arts. Whether participants are pursuing art as a hobby or a professional career, people with all levels of experience are encouraged to get involved.
For participants Jenelle and Tahlia, the program has opened doors to the arts community, introduced them to new skills, and created an environment for forming friendships. Jenelle began the program three years ago, after a marriage marked by domestic violence ended in divorce and after a serious bout of depression.
'In that first class we had to make this huge picture of a sunflower using pastels, which I'd never used before and I was just blown away.'
Making art at IGNITE has had a powerful therapeutic effect on Jenelle and she's seen big changes in herself. 'I had a problem with hoarding and I'm slowly getting on top of it. Through the course I learnt a lot about myself and I'm getting better now.'
Like all participants, Jenelle has developed a personal learning plan tailored to her needs and interests with program officer Amie who supports and encourages participants in pursuit of their learning goals throughout the program.
Whether it's painting, sculpture, glasswork or printmaking, Jenelle has had a chance to try her hand in a range of artforms offered by practising artists at a range of arts organisations in the ACT. 'We learn so much from the tutors here. I love that they've done the hard work. They're the masters.
'When you're making art you become so absorbed in it, it is like a meditative state. You can't do the times tables in your head, you can't be thinking about a problem. It's very relaxing for the mind. I've come through depression, trauma, obsessive–compulsive disorder – everything. Making art seems to keep me sane.'
'You feel like you're part of an arts community and that's wonderful. I have hearing impairment issues but I find the space here is very comfortable for me. I feel at home,' Jenelle.
'I don't just want to be in my own space in my sunroom working as an artist. I need the social side of being with others and learning from experienced people.'
Jenelle is inspired to show others that art can be a pathway to recovery. 'I'd like to give back and help other people who've come through terrible situations like mine. 'I remember when I started my self-esteem was lower than the ground. Now my confidence has soared because I am so willing to have a go, to experiment. You don't know how it's going to work out so you have to not be afraid to try things out, to break the rules. That's what I love about art you can always break the rules.
'I actually now say I am an artist, I am creating art all the time. And I feel at home calling myself that. The title makes me feel good. It took art for me to find myself.'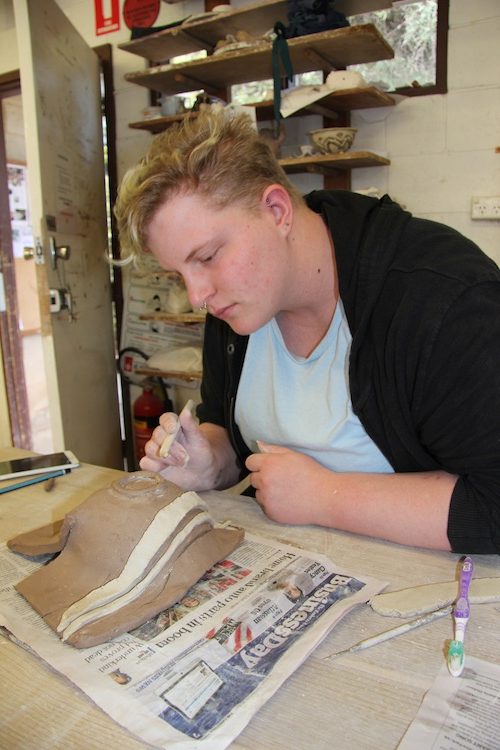 Tahlia, 22 has been involved with IGNITE for 2 years. The IGNITE program seemed perfect for me because I have mental health issues. 'Throughout school I loved art but I felt like I lost a lot of myself in not pursuing it. It felt like something was missing.'
Tahlia has found what she was looking for but it is still challenging. 'One thing I struggle with a lot is independence and going to unfamiliar places and interacting with new people. It was nerve wracking when I started and it is still very difficult for me. Having a new teacher is very daunting for me, especially with small classes and where there's lots of one-on-one interaction.
'But doing the program – apart from what I'm learning about art – has built the fundamental skills I was lacking so it's been very important that way.
'When I look at some of the people around me making amazing wonderful creations it really inspires me. I think if that person can do it so can I.
'The entire group is absolutely incredible. It's a really positive and supportive group and the teachers will always check in on you. If you have one of those times where you say "my work's no good, it'll never be any good", the teachers will take time out and help you through it. The teachers are absolutely wonderful.
'Being part of IGNITE has done wonders for my mental health. It's very therapeutic. It's confidence building, and it provides a new support network because the arts community is very tight knit and people will get in touch with you and say "hey here's an opportunity that would be great for you".
'I am often surprised at how nice everyone is. I'm not used to people messaging me out of classes asking how I am, worrying about me or just checking in. It's a really lovely thing because it makes you feel you belong and gives you a sense of community.
'Currently I'm studying a Certificate IV at Canberra Institute of Technology in Visual Arts and from there I'm hoping to get into ANU to study fine arts. Art plays a big part in my life.
'What I've learned about myself from being part of IGNITE is that I'm more capable than I thought I was. It's a good feeling to know I'm better than I thought. It's scary too because it involves setting higher standards for myself. But it's great to know I can make progress and get closer to where I want to be.
'Right now I just want to focus on what will make me a better version of myself.'
'I feel it's so important to have a supportive network of people in your life. I've got more confidence, more independence. I feel a greater sense of inclusion and wellbeing,' Tahlia, 22.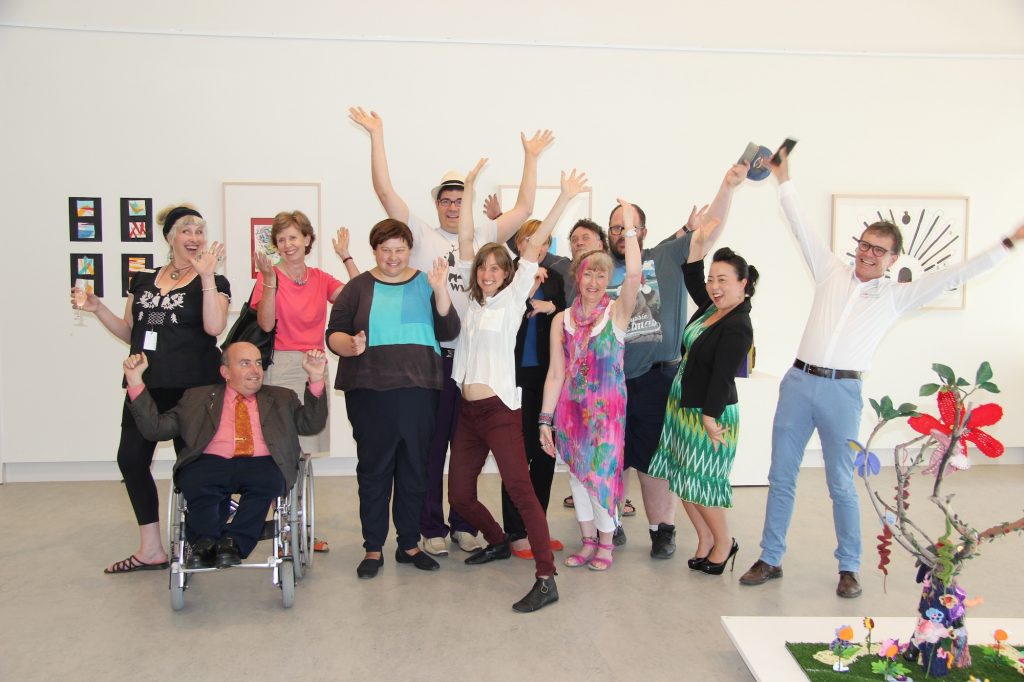 See the full issue of Quest 2, 2017