A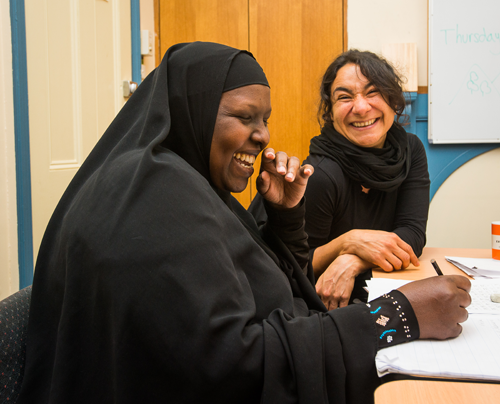 dult Learning Australia (ALA) is the largest national peak body for adult and community education (ACE). We are a not-for-profit entity with both organisational and individual members in all states and territories who reflect the diversity of adult and community education. ALA is primarily funded by membership dues, subscriptions and project revenues. ALA has been in operation for 60 years and has members in every state and territory. ALA is committed to ensuring that all Australians can access the benefits of lifelong and lifewide learning.
Our vision
Equitable access to lifelong and lifewide learning for all Australians
Our mission
Adult Learning Australia is committed to ensuring that all Australians can access the benefits of lifelong and lifewide learning.
By 'lifelong learning' we mean learning beyond school throughout the adult years via the formal education system, in workplaces and through community participation.
By 'lifewide learning' we mean developing the skills and knowledge required to engage in meaningful work, to participate fully as a citizen in a vibrant democracy, to live in harmony in a diverse, multi-cultural and rapidly changing society and to manage one's health and personal wellbeing at all ages including in later life.
Advocacy
ALA is committed to evidence based advocacy, using our own research and other research from the field. We advocate on the basis of our policy platform, which has been negotiated with our broader membership.
Adult Learning Australia has a broad and ambitious policy agenda which impacts many individuals, organisations and communities. We are committed to working cooperatively with the various peak and membership bodies working within this space to maximise our efforts.
We call on all political parties in Australia to adopt and prioritise the following policy areas:
Adult and community education
Adult language, literacy and numeracy
Lifelong learning communities
Inclusive learning culture
Educating for sustainable development
Adult Learning Australia's strategic plan.
What is ACE?
In Australian policy terms, ACE has two distinct meanings. It refers to adult learning programs that are non-formal and non-vocational and usually have no prerequisites. It also refers to a sector of not-for-profit local community-based organisations who offer adult learning programs. ALA advocates for both definitions of ACE.  We want both good quality programs as well as a strong network of providers. We are also committed to local solutions to community learning needs. ACE is funded via local, state and territory governments and by the Commonwealth Government via the Department of Education and Training.
ACE includes: Aboriginal Community Controlled Education Providers, AMES Australia, Centre for Adult Education (CAE) (VIC), Community Colleges, Community Learning Centres, Neighbourhood and Community Houses, Telecentres, LINC network (TAS), U3As, Workers Education Association (SA), Workers Education Association (NSW), Adult and Further Education programs in many TAFEs and community organisations who offer learning opportunities to adults.
Statements on ACE
The Ministerial Declaration on Adult and Community Education (2008) recognises the importance of ACE in providing pathways to further education and training for 'second chance' learners and informs ACE policy across jurisdictions.
Skills Australia's Skills for prosperity: A roadmap for vocational education and training (2011) report recommends that 'Australian governments affirm the importance of the adult and community education (ACE) sector as a pathway for individuals undertaking pre-vocational, bridging, entry-level and foundation skills programs by formally acknowledging in the next intergovernmental resourcing agreement for the sector the role played by ACE providers in attracting previously disengaged learners'.
National VET Equity Advisory Council's Creating futures: Achieving potential through VET 2011–2016 (2011) report recommends that Australian governments 'give formal recognition to the role of ACE'.
Learn more about ACE in Australia. Check our ACE infographics.
Our history and role
The Australian Association of Adult Education (AAAE) was founded at a meeting in Hobart, Tasmania, in 1960. In 1989, AAAE amalgamated with the Australian Association of Community Education to form the Australian Association of Adult and Community Education (AAACE). The name Adult Learning Australia (ALA) was adopted in 1998 to reflect a changing adult education environment. It confirmed the association's view that the learner is the central focus of our attention, and that learning occurs through informal and non-formal means, as well as through the formal tertiary education and training systems.
We advocate at the national level for greater attention to adult and community education both in policy and funding terms.
We advise all levels of government, particularly at a national level through our relationship to the Department of Education and Training.
We conduct and disseminate the results of research of relevance to practitioners.
We foster innovative learning methodologies.
We develop and publish adult learning resources.
We offer professional development events and forums for our members and stakeholders across Australia.
We unite adult educators, trainers, tutors, learners and organisations from different sectors and locations within the adult and community education space.
We support Adult Learners' Week and manage the Adult Learners Week website.
We keep members and others informed through our quarterly e-magazine, Quest, covering issues, events, people, ideas and projects on adult learning.
We publish the Australian Journal of Adult Learning, a highly respected A rated journal that provides information and analysis of the theory, research and practice of adult education and learning.
We present an Australian voice at international forums, including through our membership of the AAACE in the United States, Learning and Work Institute (formerly NIACE) in the UK, the International Council of Adult Education (ICAE) and Asia South Pacific Bureau of Adult Education (ASPBAE).
We manage a national database of adult and community education providers.
Adult Learning Australia's constitution.
Our projects
Adult Learning Australia takes on projects that are consistent with our core mission and values. Learn more about Adult Learning Australia's projects.