Out of the ashes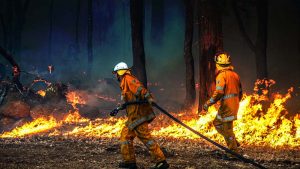 On a hot night in January 2016 when the wind began dropping big burnt leaves on Julie-Ann Ford's property in Yarloop WA, she took her horses and her children and drove to safety.
Like Julie Ann, most residents of Yarloop had no official warning to leave. Many decided too late and were trapped in town sheltering in terror as a firestorm swept through.
Three days later, two residents were dead, 70,000 hectares, an area almost as big as New York City, was burned, 160 homes were gone and the historic township was in ashes.
Julie-Ann is the manager of the town's Community Resource Centre (CRC). Before the fire, the CRC was located in a former hospital and supported the community by providing access to technology, education, information, resources and community services, often to the most vulnerable people in the community.
'We spent a lot of time helping people access MyGov on the computers. There are people who are years and years behind when it comes to digital literacy. We also provided emergency relief like food vouchers and had a laundromat for people to do their washing. Back then, we didn't think of disaster preparedness or recovery training as part of our role at all.'
But after the fire Julie-Ann says, 'The CRC was so well known and so valued that everyone looked to us for answers.'
The CRC became the centre of recovery efforts to a devastated community – staff and volunteers cooked meals, set up makeshift showers, provided emergency relief and fuel vouchers, and practical support. For a few days after the fire, the CRC operated out of Julie-Ann's home, before being relocated to the town's sports pavilion.
'The work we do is so important and needed but it's often invisible to politicians and decision makers so this has really focussed attention on what we do.' Julie-Ann Ford, manager, Yarloop CRC
New beginning after bushfire
After three years of temporary accommodation, the CRC has a new permanent home. WA Premier Mark McGowan's official opening of the building on the site of the former town hall on November 22 marked a milestone on Yarloop's long road to recovery.
For Julie-Ann, 'It was an emotional day. It gave me a sense of closure. It feels like we can stop putting our lives and our town on hold. Finally life can go back to normal.'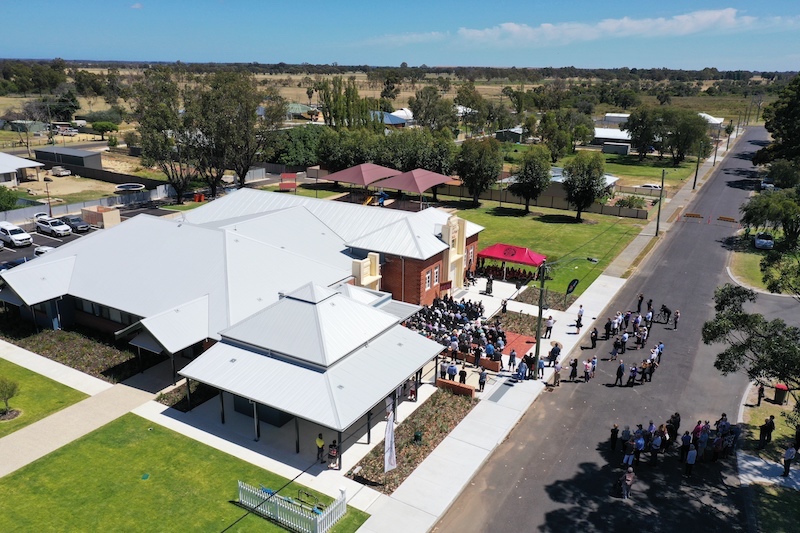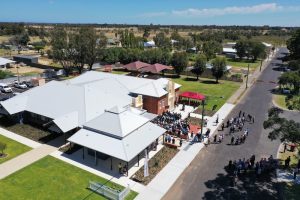 Since the fire, Julie-Ann says attention has focussed on the crucial role community-based organisations like CRCs can play in disaster preparedness and community healing.
'I think the importance of the CRC network in small communities has really been highlighted over this time. For example, our Shire has relied heavily on our community connections because that's something they didn't have a lot of.
Last year, CRCs like ours faced 50% state government funding cuts. But we had the WA premier down here cutting the ribbon on our new building, so I think there's a lot more understanding of and respect for the work CRCs do.'
The new building incorporates the historic facade of the Town Hall, which survived the fire, an important reminder of the town's past as a thriving mill town. 'We lost 160 homes and we lost all that history and heritage. You feel like you've lost your identity,' Julie-Ann says.
Bushfire preparedness and recovery
Julie-Ann says preventative community education is crucial. 'We need to put measures in place so people know what to do like having a muster point in town and making sure everyone is evacuated. Frequently people can't make good decisions at times like that, they are too stressed, so they look to leaders in the community who will tell them when it's time to go.'
'We have so much to offer. The Community Resource Centre is the 'go to' place and such an important part of Yarloop. People come to us for everything.' Julie-Ann Ford, manager, Yarloop CRC
When it comes to recovery, the CRC has been at the forefront of efforts to build a new sense of shared identity and improve community resilience. 'We set up regular morning teas to give people a chance to come together and to talk about  their experiences of the fire. It was very healing.'
But with a third of residents having moved away, friendships have been lost. 'Rebuilding those community connections is still really hard. There's a lot of work to be done. We're going to go back to old fashioned ways of connecting people like casserole nights and barbeques to get people out of their houses and meeting their new neighbours.'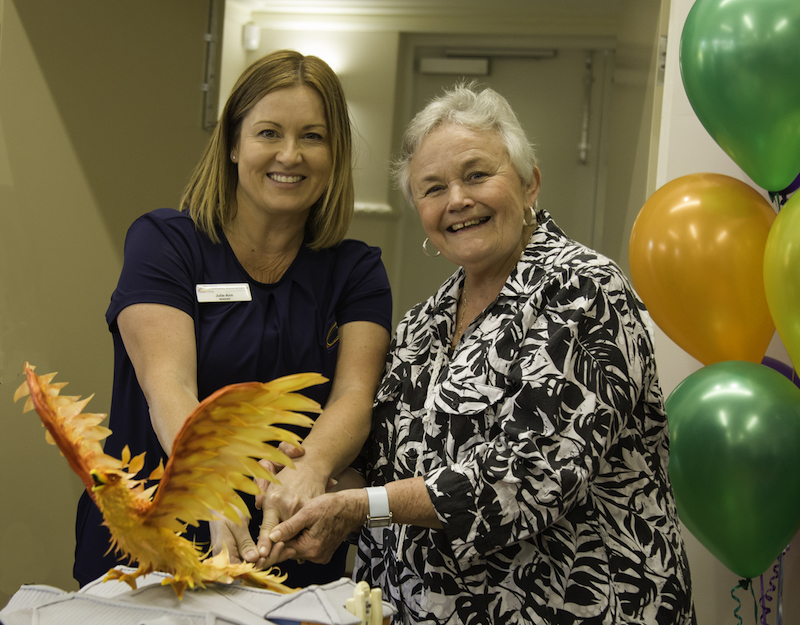 It's a long road back from such a devastating event but Julie-Ann is hopeful. 'This building gives us an amazing opportunity and there's a lot of excitement about it in town. As a town, I think we're looking at the positives, we've got a chance to recreate ourselves, give ourselves a new identity and not many places get the chance to do that.'
Celebrating survival and resilience
After the official ceremonies were over the CRC staff and supporters organised a special get-together of their own to celebrate their new home and their achievements.
'After the fire we had nothing in place to cope with that situation. The Department of Industry and Regional Development (DIRD) who funds us offered to put our contract on hold but we said 'no' we wanted to keep going. We were very grateful to DIRD because they changed our contract to allow us to offer recovery and support and referrals instead of our normal services because that's what the community desperately needed. It was a massive challenge to keep the CRC functioning.'
'It's so great to come out the other end knowing that we kept our services and support for the community going the whole time, to help us all recover and build community resilience. It was a fantastic achievement and we're so proud.'
See the full issue of Quest 4, 2019