On the road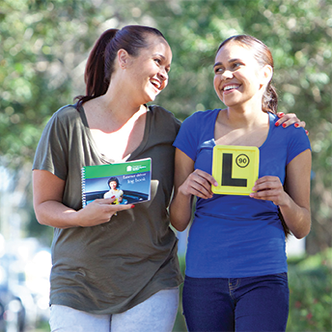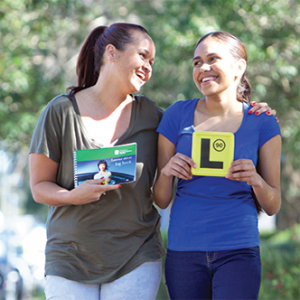 A driver education course is helping Indigenous people in regional and rural NSW to get on the road.
Perhaps getting your driver licence was no big deal for you. But for some Australians it can be a real challenge. In remote and regional Australia where public transport is limited having a driver licence is even more important if you want to work, study, socialise or make use of local services such as seeing a doctor or attending the hospital.
But some Aboriginal and Torres Strait Islander people face a range of obstacles to getting a driver licence, including the costs of the tests, difficulty getting the identification papers needed, the literacy and numeracy levels required, and lack of access to a car and driving teacher.
The costs of driving without a licence are high. It's not only unsafe but can lead to disqualification from driving and even time in jail. New South Wales drivers can have their licences suspended if they have unpaid fines. These fines might not be related to driving offences. In 2014, Aboriginal people in NSW were three times more likely than non-Aboriginal people to lose their licence because of unpaid fines.
In 2005 Roads and Maritime Services NSW funded ACE Community Colleges to offer a course to help Aboriginal people in the Lismore area to obtain a P driver licence.
The course was run in Lismore by Uncle Bucky, the first Aboriginal driving instructor in NSW. The first batch of students included young and older members of the Lismore Aboriginal community as well as some elders.
Today around 200 people do the course each year at a range of Aboriginal communities around the state and the staff team now includes two driving instructors and a literacy teacher.
The program is structured to prepare learners for the three stages of licence testing. First is an 8 week course to prepare for the Driver Knowledge Test, followed by the equivalent of 30 hours of driving lessons, then access to a car and instructor for the Driving Ability Road Test.
ACE Community Colleges' Indigenous Driver Education Program took first prize in the 2015 Caltex Road Safety Awards.
Roads and Maritime Services NSW are a major supporter of the program.
Jan Levy, Program Coordinator, ACE Community Colleges Aboriginal Driver Education Program says working with communities to plan courses and involving Aboriginal people in running the course has been crucial to the program's success.
'We do a lot of community consultation beforehand. When you drive into a community in an official looking government car, trust is always going to be an issue. We work very closely with Land Councils and we've made some very good connections. When we arrive in a community we go straight to the elders, they know everyone. They know, for example, who has had their licence suspended or who doesn't drive but would really benefit from learning.
'The first thing I do is go to the Justice Department and introduce myself to the magistrate so we can make the link between our course and the court. What we aim for is that magistrates will adjourn a driving matter like illegal and unlicensed driving and instruct the offender to do some training.
'Because we move the course around that means also finding good local driving instructors, ones who have a positive attitude towards the Aboriginal community. We ask the elders who they trust. If you listen to the elders you can't go wrong.
Veronica Pearce
Veronica Pearce is an elder of the Yaegl (Yamba & Maclean) Community. She wanted to get her licence because her husband could no longer drive. She's an inspiration to a lot of young people because she was so determined.
Veronica had begun driving lessons with ACE Community College but her learner licence expired. With one-on-one help from the ACE coordinator she prepared to sit the Learner Driver Knowledge Test a second time, and passed again. Three weeks later she passed her Provisional Driving Test and got her P plates. Getting her licence has been very exciting and the whole family celebrated her success by buying her a car of her own.
Mark Wallis
At 18, Mark Wallis was disqualified from driving for 20 years
'I was young and dumb,' Mark says.
At 38, with his disqualification over, father-of-six Mark passed his licence on his first attempt and is now the proud holder of a probationary licence.
'I am a fisherman and now I can jump in the car without having to rely on anyone. I can plan the camping trip with the kids I promised them. My parents are so proud of me. I am looking into a job at the mines in Narrabri.'
Marie Williams
Marie Williams, 22 got her learner licence 4 years ago and passed her full licence on her second attempt in February.
Until Marie learned to drive, her mother – who also learned to drive with help from Uncle Bucky at the ACE College course – was the only other person in her family who held a licence. So being able to drive means Marie is less reliant on others to help her out.
'Having a licence means our family can become independent of mum. Next week we are moving into our own place. I will be able to attend to all my baby's needs, go to doctor's appointments and do shopping without having to rely on help from family. It will make a big difference to my little family.'
Marie said the course was great preparation. 'The training helped me to get through the test. The driving instructor showed me what I had to do to pass and he was very helpful.'
A practical approach
Natalie Hannah, Literacy Teacher and Student Support Officer runs the eight week two-hour course that prepares people with the language, literacy and numeracy skills required for the Driver Knowledge Test.
Jan says, 'The Driver Knowledge Test is written in a way that's quite tricky. Natalie rewrites and presents the information in plain English and uses practical demonstrations to help people learn.
'Natalie is terrific at developing activities that help people understand the rules. She uses a board game where people use model cars, and they can't move around the board unless they follow the road rules so they practise road rules in a fun way. This group learning, hands-on approach really helps students understand information in a practical way that prepares them really well for the test.
Students also get a chance to try on special vision 'beer goggles'. Wearing them really shows students how alcohol affects their ability to make accurate judgements and decisions.
'Students who do the course are exempt from the test fee so they can repeat it as many times as they need to. But generally we don't send people for the test until they are ready.
'We go with them to the Roads and Maritime Services (RMS) centre for their test. And we go as a group so those who are feeling ashamed or very shy have got the support of the others to keep their confidence up.
'For people without the literacy skills needed to take the written test, they can put headphones on and have the test delivered aurally. The RMS developed that specifically and they have done a lot to accommodate people with low literacy.'
See the full issue of Quest 3, 2016
Photo credits:
Page 1: NSW Centre for Road Safety.
Page 3: Driving, CC BY-NC-ND 2.0
Page 4: Road, CC BY-NC 2.0