Lifting with Linfox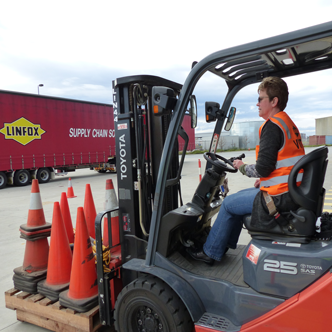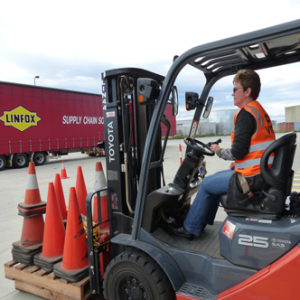 A partnership between Kensington Neighbourhood House and Linfox offers industry training and a pathway to better paid and more stable work.
Before she could prepare her students for their forklift theory test, Kensington Neighbourhood House teacher Louise Cindric decided she'd better do the training herself.
At Linfox Operational Training (LOT) in Laverton in Melbourne's west and with the guidance of LOT trainer Stephen Kilmartin, Louise sat the written test and took her turn driving the forklift.
Meanwhile process worker Abdulrahman Moalim arranged to take time off work to attend the four day training program at Kensington Neighbourhood House (KNC) that he hoped would help him gain his Forklift Truck Licence. 'Prepare for work in warehousing' is a pre-accredited program that prepares learners to take the 'Licence to Operate a Forklift Truck' and gain their High Risk Work Licence.
Back at the neighbourhood house, Louise and education co-ordinator Rebecca Smith worked on the Linfox study guide, adapting it for adult learners who come from CALD backgrounds as well as for those who may have had interrupted schooling. They added pictures, links to videos, explanations, and vocabulary lists, to familiarise students with the material.
Abdulrahman was nervous about the course and worried that four days preparation before the written exam and practical driving test would not be enough. But Louise's insights into the test and practical experience were invaluable Abdulrahman says. 'She prepared us for what to expect, and she knew what we needed to focus on. She is a wonderful teacher.'
Kensington Neighbourhood House have been recognised for their excellence and innovation in adult education and were winners of the Community Training Provider of the Year 2016 in the Victorian Government Training Awards.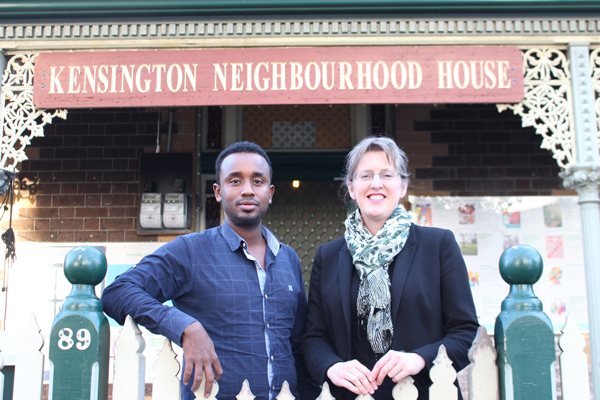 Linfox HR staff visited during the program to give learners an idea of where warehouse work can lead and to talk about opportunities available in the transport and logistics sector.
After four days of study and many practice quizzes, it was time for the students to leave Kensington and go to Linfox Operational Training to undertake their accredited course.
This involves a two and a half hour written test requiring students to write short answers to 58 questions of which they can only get three 'non critical' questions wrong. The practical forklift driving assessment had students zigzagging between traffic cones, lifting pallets, lowering them again and steering the forklift through and around a series of obstacles to demonstrate both their practical handling skills as well as their awareness of all aspects of workplace safety.
By the time the test came around, Abdulrahman was feeling pretty confident having spent a full day at the LOT facility with experienced industry trainers. Still the exam was demanding with the written test and then the assessors asking him to comment or elaborate on his answers during the assessment process.
'I'm very proud to have passed,' Abdulrahman says, 'having this licence has opened another door of opportunity for me.' His supervisor has been positive about him getting his licence. He's hoping that his workplace will provide more opportunity for him to practise his forklift driving skills, and that will lead to more interesting work as well as better pay.
Rebecca Smith says that many residents in Kensington and surrounding areas have overseas logistics experience but don't have the qualifications needed to get work in the industry here. By offering intensive test preparation, Kensington Neighbourhood House are able to give students like Adbulrahman a much better chance of gaining an essential workplace qualification.
And passing the exam and getting a forklift licence opens up new possibilities. 'Seek.com advertise almost a thousand forklift driving positions a week so demand for forklift drivers is steady,' Rebecca says. 'For people already employed in packing or processing, this course is a pathway to more stable and better paid work.'
The ACFE funded course ran for the first time in August and again in September and the KNH plans to offer it again in 2017. As part of their partnership with KNH, Linfox offer students heavily discounted rates on their training and testing fees.
http://www.kensingtonneighbourhoodhouse.com
See the full issue of Quest 4, 2016
Save