Learning to give back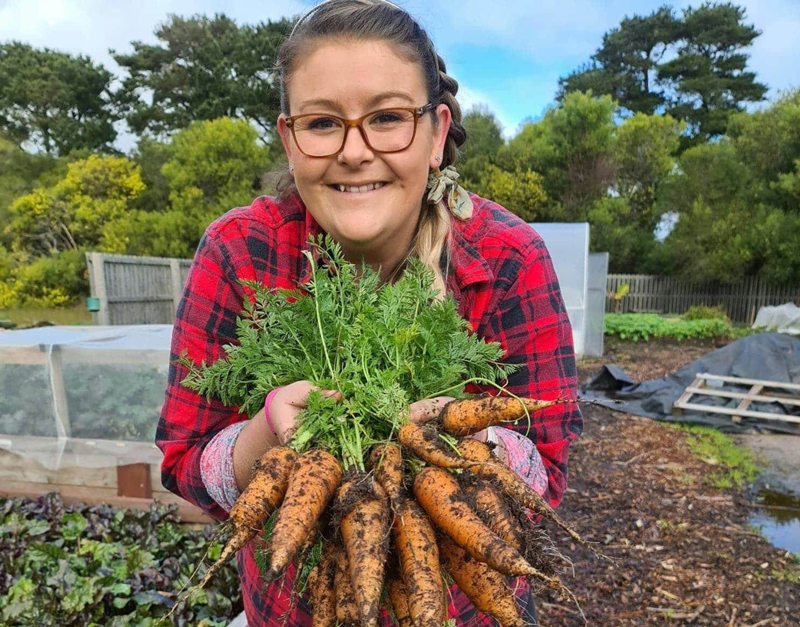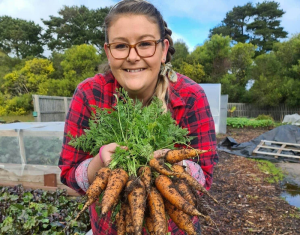 Loran McKean, one of the three Adult Learners Week 2020 scholarship winners, was travelling light when she arrived in Wonthaggi from Queensland in 2019.
'I had nothing much, just a car seat and a suitcase and my daughter on my hip.'
Loren had over 10 years experience in cane farming but she realised work would be difficult to find without qualifications. So she enrolled in a Certificate 2 in horticulture at Bass Coast Adult Learning, thinking it would open doors in landscaping, gardening and nursery work.
Initially Loren wasn't sure the course would teach her much. 'I thought I knew the ins and outs of plants and soil and all that sort of thing.'
But the course forced Loran to reappraise what she knew.
'In Queensland we used to just spray and rip the ground. But I learnt so much more. I've scrapped the old school farming ways. I learnt a lot about permaculture and organic farming. We learnt about irrigation, feeding plants, pruning, looking after the soil. I was really amazed.'
'Adrian, our certificate II horticulture teacher really knows a lot and has opened a whole new world to me that I didn't even realise was there.'
Loren was initially unsure about taking on the role of being a student and a mother. 'I didn't think I was going to make it. I was a single mum, and they stay at home, they raise children, they cook and clean, you know. It's not until your child is much older, then you start following dreams and then you start getting education sorted and things like that.
Loren (L) delivering fresh garden produce to the Salvation Army.

I absolutely surprised myself because I walked into it thinking, "I can't do it." But it all proved me wrong. I stuck at it and worked hard and here I am.
Loran is using her new skills to give back to the community. Along with a group of fellow graduates she has rehabilitated BCAL's rundown garden, planting it with donated seeds . The community was keen to get involved.
'I started asking people for seed donations and sure enough, I got seed donations, then people started donating building materials and other bits and pieces and some money as well. And then businesses started hearing about it. So now I get funded by Bunnings and the nursery So a lot of people are on board now.'
I thought this was a perfect opportunity to give back to my community. Because I needed a lot of help when I came here.
Fresh produce from the garden goes to local food banks, which have a shortage of fresh fruit and vegetables, and is distributed to the community.
Loran says it's very satisfying to be able to do good with the skills she's learned. 'This community welcomed me when I arrived, there were services to help and I was able to rebuild my life. Now I can use what I learned to give back.'
'It's really opened a lot of doors for me. My daughter starts school at the start of next year and I'll be looking for work. I'd like to get onto the council garden crew. That would be my dream job.'
See the full issue of Quest 3, 2020