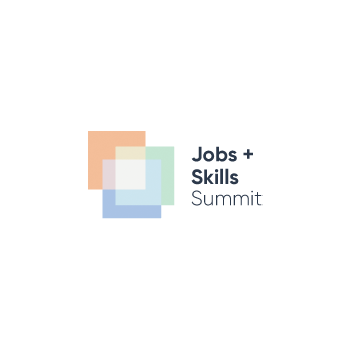 ---
Adult Learning Australia was invited to participate in the Commonwealth Government's Jobs and Skills Summit – 1–2 Sept 2022 – at Parliament House Canberra as well as pre-summit Ministerial round tables.
---
At the Jobs and Skills Summit and Ministerial roundtables, we highlighted the role of adult community education (ACE) as an essential mechanism that can assist all tiers of government to address skills shortages and expand employment opportunities for all Australians; especially those experiencing disadvantage.
Our summit position
Not everyone is ready to learn or ready for work. For many adults returning to learning or taking up work is a big step. Some of the most successful initiatives for people who are hard-to-reach and disengaged are delivered through adult community education.
The not-for-profit ACE sector works with disadvantaged cohorts, including adults with low literacy and numeracy, to support them to:
transition back into learning
develop basic skills for work
improve foundation skills
pathway into formal learning programs.
Community providers are a key part of the education and training system and embedded in our urban, regional, rural and remote communities. The ACE workforce and volunteers are largely women who contribute to the wellbeing of the adults they work with as well as their local communities.
Despite the important role that the ACE sector plays in educating some of Australia's most disadvantaged groups, the sector lacks recognition and resources. Support and development for not-for-profit adult community education must be part of a national jobs and skills strategy.
The recent Parliamentary Inquiry into Adult Literacy and its importance highlighted the crucial role of ACE in reducing barriers to education and training, and in promoting a culture of lifelong learning.
Our key questions
Our key questions for the federal government include:
How is the government going to support disadvantaged adults like people with low literacy and numeracy skills who are locked out of work, education and life opportunities?
How will the government support adult community education as a vital part of the education and training system that works with some of the most disadvantaged people in Australia?
Our calls for action
Implement the recommendations of the House Standing Committee on Employment, Education and Training's Parliamentary Inquiry into Adult Literacy report 'Don't Take it As Read' including developing a resourced national adult literacy strategy.
Invest in building and strengthening a national adult community education sector; focussing on supporting literacy, numeracy and foundation skills demands in all jurisdictions for vulnerable cohorts.
Recognise non-accredited pathway programs in the community sector for their potential as a pipeline to accredited qualifications for disadvantaged cohorts.
Renew and resource the Ministerial declaration on adult community education to enable the continuity and longevity of ACE providers so that they will be well placed, not only to support Australians as part of jobs and skills but through lifelong learning to help maximise the pandemic recovery process for Australia into the future.
Incentivise and resource access to initial training programs that address the national skills shortage of qualified adult LLND educators.
Invest in ongoing professional development that builds workforce capacity across non-accredited and accredited provision.
Invest in ACE introductory trades training programs.
Develop a national lifelong learning policy as a centrepiece for all educational policies in order to unlock the true potential of all Australians.
ACE across Australia
Some examples of ACE pathways to work, study and life.

Regional
Remote
Remote examples
Arnhem Land Progress Aboriginal Corporation supported Manapan program that provides training for local people in carpentry and joinery skills – (NT)
Literacy for Life Foundation, Yes I Can Literacy Campaign in Wilcannia – (NT)
Urban
Find out more
Reflections from the Jobs and Skills Summit
---
Included in Categories