Our latest issue of Quest unearths great stories of lifechanging adult education  — from Adult Learners Week keynote speakers, learning ambassadors, scholarship winners and more.
During the launch of Adult Learners Week, guest speaker Simon Fenech shared how hitting rock bottom after his release from prison was the catalyst for his role as a mentor. Rugby star and actor Ian Roberts described the first time he told someone else about his difficulty with reading and how pivotal it was in getting help. Lana Masterson drew on her own experiences as a troubled child to help young people in her community to stay on track.
We've also got stories about our wonderful learning ambassadors and scholarship winners and the lessons they've learned from returning to education as adults. And our 'Best ALW event' winners share behind-the-scenes advice and tips.
You can download the full issue or read and share individual stories by following links below.
Issue 3, 2021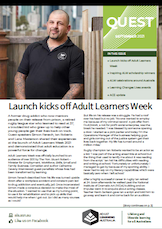 ALW celebrations around Australia
Learning Changes Lives awards
ACE Update
Download the .pdf Quest 3, 2021
---
Included in Categories