Presenter:
Various
When:
3rd March @ 03:00am
Duration:
2 hrs
Cost:
Free
---
PIMA webinar series: climate justice and ALE presents
Climate Just Pedagogy – what lessons have we learned?

A webinar co-hosted by PIMA, CASAE, ALA, MOJA and SCUTREA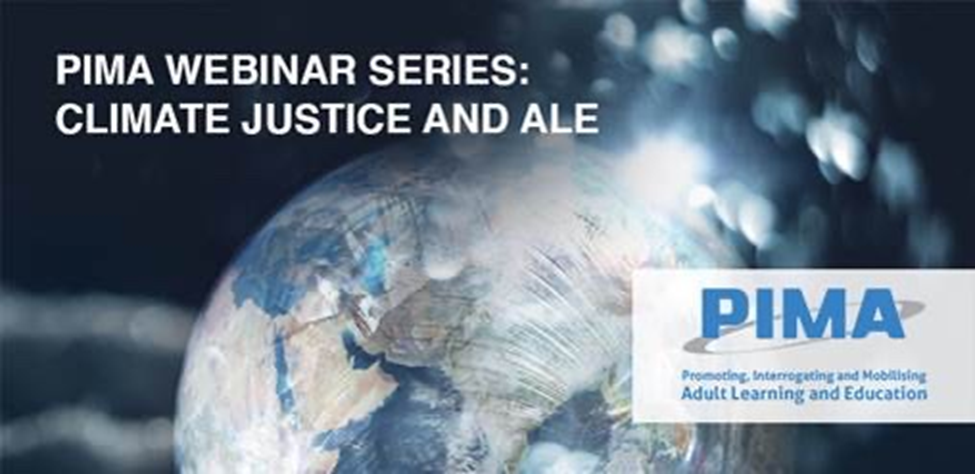 Over the last eighteen months PIMA, in collaboration with the Canadian Association for Studies in Adult Education (CASAE), Adult Learning Australia (ALA) and Standing Conference on University Teaching and Research in Education of Adults (SCUTREA), has led a series of Climate Justice and Adult Learning and Education (ALE) webinars and has produced a special edition of the its PIMA Bulletin 39 (Nov 21) which captures climate justice themes and gives examples.  With recurrent intensified climate events, yet no apparent sense of urgency in many regions, we wish to deepen the dialogue and educational actions.
We invite you to a participatory workshop that asks:
Climate Just Pedagogy – what lessons have we learned?

Date: 2 March 2022 / 3 March 2022
Time: PDT 8am (Vancouver); 16:00 BST (London, UK); 17:00 CAT/CEST (Harare, Berlin); 20:30 IST (India); 03:00 AEDT on 3 March (Sydney)
Length: 2 hours
Among the questions we will pursue:
What is climate just pedagogy and for whom?
How do we work in a climate just way?
How do we raise climate justice as a priority for adult education?
The PIMA Bulletin No 39 will serve as the common reference text for discussions. We will assume this has been read.  https://drive.google.com/drive/folders/1YrXgJbpmiZDZmPb0bJ6-kakPeOOIusyj
This webinar is free.
You can access the workshop report here.
Co-host contacts
---
Included in Categories