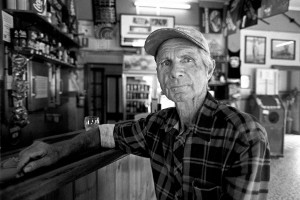 In rural areas of Australia suicide rates are around double the national average.
Inverell Community College, one and a half hours from Armidale in rural New South Wales, recently hosted a free community based education program to help prevent suicide among farmers.
The program is known as SCARF which stands for Suspect, Connect, Ask, Refer and Follow Up. It's aimed at professionals and local business people who deal with farmers in their daily work. 
The Inverell course attracted around 40 people including vets, bankers, livestock agents, and local business people.
Course facilitator Meg Perceval, coordinator of the Farm-Link Suicide Prevention Project says the course aims to teach community members to recognise warning signs and develop the confidence and skills to initiate conversations about suicide or mental health problems with people they are concerned about.
The reasons for higher suicide rates in rural areas are complex, but Meg says some risk factors have been suggested. 'We know that people living in rural areas are less inclined to seek help for mental health problems, and may not only be geographically isolated but emotionally isolated too. Add to that a culture of stoicism and the stigma associated with mental ill-health, possible financial pressures, and in some cases limited education and job opportunities – and it has a cumulative effect.'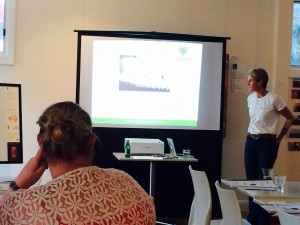 Being alert to signs
The SCARF program takes participants through five steps to preventing suicide. The first is to suspect. 'Being alert to signs is the most important step. A lot of people react to news of suicide by saying they had no idea, they didn't see it coming. We aim to help people to become more aware of danger signals.'
Meg focuses on health and wellbeing and encourages participants to look at a broad definition of good health including diet, sleep, exercise, physical environment, having a sense of purpose and social connectedness.
'By helping people understand more fully what it means to be healthy, they are more able to recognise signs of ill-health, including mental ill-health,' says Meg. Paying attention to signs of ill-health is critical. For example, in visiting a property Meg says you might notice that the farm or house looks unusually messy or uncared for, or that the farmer mentions in conversation that he works so hard but never seems to get anywhere.
'We teach people in our courses to hear the warning bells more clearly. Instead of responding by saying "That's no good," and moving the conversation on to another subject, we want people to take the next step which is to connect and show they care. In some instances, that may mean asking the person directly and unambiguously if they have had thoughts of suicide.' This can be challenging, and participants are given the chance to practice asking these types of questions to build confidence.
Knowing what services and support are available
Noticing that someone is struggling is one thing, but Meg says knowing what kinds of services and support are available is just as important. Participants are given extensive information about local and regional as well as 24 hour a day, 7 days a week services. And follow up is also vital. 'It's very important that people learn to check in with the person they had the conversation with tosay "Hey did you see your doctor?" It shows you still care.'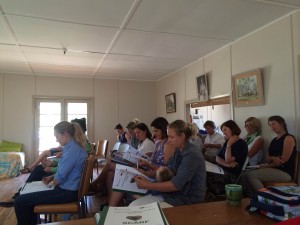 Meg developed and piloted the halfday community course in 2012 and by December 2013 she had trained more than 350 people. She has also developed a 3 hour clinical program for general practitioners and menta health service providers.
Meg says the reason the cours ehas been so popular is because everyone in a small community is touched by a suicide. 'The vast majority of people coming along to our courses have been affected by a suicide, either directly or indirectly. And all of them have some experience with mental health problems in themselves or people close to them.' Meg says that the fact that the course is short means it's accessible for workplaces, farmers and community people.
Simple steps build confidence
The feedback so far has been 'amazing and really positive' Meg says. 'Some people do a complete backflip and say, "Wow! I now think completely differently about this!" 'Because the program presents information in a series of simple steps people feel empowered and more confident. People are not only more knowledgeable but they are more aware and that helps to break down stigmas so often associated with seeking help.'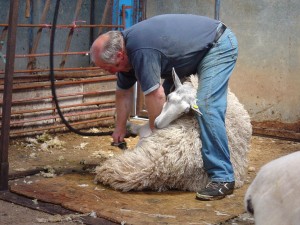 Program coordinator, Inverell Campus, Sally Walters says the Farm-Link course fits well with the College's commitment to community wellbeing.
The College regularly runs Mental Health First Aid courses aimed at improving services to vulnerable groups.
Sally says working with organisations like Farm-Link is important in strengthening local communities. 'We're a small community and a course like this is terrific because people learn that they can take constructive and positive steps to improve our community's mental health.'
She expects they will run the course again for people who weren't able to make it first time round. 'The people who did the first one will spread the word about how wonderful it was and that is likely to get other people keen to come along.'
Photo credit
---
Included in Categories