Our end of year issue of Quest  features great stories about the power of adult education to help people live more sustainably and protect the environment, recover from trauma and turn their lives around through lifelong learning.
In the issue we've got a range of inspiring stories about the power of adult education across the country. In the Victorian town of Castlemaine the Community House is running a course to help people make decisions that are good for their pockets as well as the planet. In Sydney, literacy classes are helping members of the Stolen Generation to heal. In Adelaide's Hackham West a barista course is revitalising a community and in Tasmania adult literacy tutors are making a real difference.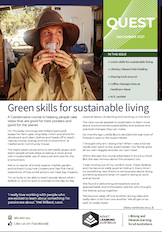 You can download the full issue or read and share individual stories by following links below.
Download the .pdf Quest 4, 2021
---
Included in Categories