A new program encouraging women to take up tutoring in adult and community education is taking off in Western Australia.
When Ruth O'Dwyer saw the ad on Facebook for the ACE
Women Taking the Lead program, she jumped at the
chance to develop her training skills. She was one of ten
women who recently completed the Linkwest program at
Fremantle's The Meeting Place.
As a former professional musician and events consultant
with over 14 years experience, Ruth was drawn to the idea
of sharing what she knew about marketing. 'I had been involved with a range of small business people at a health and wellbeing expo I was organising and I noticed many were unsure and uncomfortable with marketing what were terrific services. I wanted to help and support people to empower them to take the next step.'
Taking training off the to do list
Ruth signed up hoping that she'd get some insights about the best way to teach adults and the course delivered just that. Signing up had added benefits. 'It forced me to take the idea of running workshops off my to do list and focus and commit to spending time developing my skills and taking it more seriously.'
Ruth was confident that the course would be worthwhile. 'The teacher came highly recommended, and the course seemed really well organised.'
Over three weeks Ruth and her classmates learned how to design, develop and deliver their own workshops and gain hands-on experience as tutors. At the end each of them did a presentation to the rest of the group on topics as diverse as baby massage, everyday science and marketing for a small business.
'It was a really small group and we got to know each other over the three weeks. None of us had anything drastic to prove. It felt very comfortable.'
But once her own training was over, the prospect of running a short course with her first group of students was daunting. 'I was really nervous that I didn't have enough content. But in fact I had too much and we went over time.'
Getting to know the people in her group and what they wanted to learn about marketing helped Ruth adapt and tailor her material. Her eight adult students included an engineer wanting to work with farmers doing crop surveys; a woman setting up a permaculture business; a speaking coach and a children's author. 'They were all wanting to promote their small business so they could earn a living doing what they love.'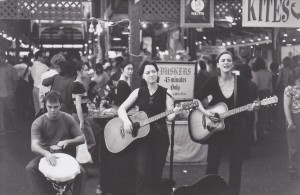 Rock music as a model
Ruth found the tips from ACE Women Taking the Lead helped her to develop and structure a day-long course for adults in marketing.
'I developed a model and an analogy to explain the principles and processes involved in marketing a product or a service.
'In my 20s, I was a rock musician so I used my experience of that to take them through the different stages and skills you need from getting a band together, to building a loyal following, getting an agent to help you grow your business, to selling CDs and merchandise.
'Using the rock star model helped me to contextualise the theory of marketing and make it very practical. I divided the day's content into six modules and we'd stop from time to time and I'd ask, "OK, so what stage are you at in the Rock Star model?"
'The other thing I found really useful about my training was the idea of understanding the different learning modalities – visual, touch and audio. I made sure I incorporated those wherever I could. So for kinetic learning I encouraged people to write down actions they could take, I used slides and videos for visual learning and handed around examples of marketing materials for them to handle and look at.
'I think it went really well. They all left with big smiles on their faces, and have started to engage with me on social media. There was a wonderful moment at the end where we were taking one person's business as a case study and talking about ideas for branding and developing a tagline. And the whole group were pitching in ideas and giving advice. I hadn't expected them to take it all on board so quickly. It was amazing. I was really excited.'
Ruth's looking forward to taking next steps in her own training. She's planning to develop more workshops and has signed up for a Cert IV in Training and Assessment with a view to teaching in TAFE.
Western Australia has the greatest gender gap when it comes to adult learning with 36.5% of women compared to 45.8% of men involved in formal and non-formal learning.
Linkwest is running the program at four WA centres funded through Grants for Women Program, Department of Local Government and Communities. It's available for community members or centre volunteers looking to develop their skills.
---
Included in Categories