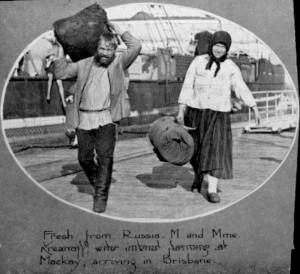 Just a few kilometres from Perth's CBD and a ferry ride away is the city of South Perth. Situated on a peninsula, South Perth is surrounded on each side by the Swan and Canning Rivers.
Around 46,000 people live in the city, which has pockets of both of high- priced housing along the waterfront as well as low-priced state housing. Curtin University brings students and staff to the area and a large Aboriginal college, a growing multicultural population, and plenty of retirees, workers, young people and children make for a diverse community.
But a Family History Online class at the South Perth Learning Centre is drawing people from the other side of Perth as well as those from the local community.
TV turning people on to history
The popularity of TV shows like Who do you think you are? that depicts historical research as sometimes exciting and always fascinating has fuelled interest in courses such as those offered at South Perth Learning Centre. 
Tutor Lee-Ann Atkinson says the course attracts people who might be lapsed family historians who were previously unsuccessful at finding ancestors but have been given fresh hope by improved access to digitised records. Others are completely new to the process and are keen to learn how to track down the stories of their family, their home or a place.
South Perth Learning Centre which turned 26 this year, has a keen sense of its own history. The centre's logo is a picture of one the earliest buildings in South Perth, an 1835 mill built for grinding wheat and corn.
While family history courses have always been popular at the centre and have run for around 20 years, developing technology offers new opportunities for people with an interest in local history and genealogy.
The centre has 1000 members, half of who are actively involved in the more than 70 courses run each term. Traditionally, most of the men and women attending the centre are retired or work part time. But Lee-Ann's classes attract more than the time-rich retirees. Younger people, many of them working full time, are travelling to the centre from much further afield.
For Lee-Ann the deliberately small classes – six people maximum – include people who are technological beginners to the digitally savvy. A fascination with history can be a powerful motivator for people with low digital literacy, Lee-Ann says. And while others in the class might be confident with computers, they may be far less confident with the research skills required. But what they all have in common is a desire to unearth stories from the past. 
Research can be a thrill
While catering to people with such differing research experience and computer skills can be a challenge, Lee-Ann says, students are highly motivated and research can be a thrill.
'We all have a story to tell and everyone's family history is interesting,' Lee-Ann says. 'And each story and each family, is different.' Tailoring the course to each person's interests is important. The first question Lee-Ann asks people is which geographical area, state or country they are interested in researching so she can tailor her teaching.
Another important aspect is helping people to be realistic and not to be discouraged. Lee-Ann says high profile shows like Who do you think you are? paint a romanticised picture of family research. 'These kinds of TV shows don't show you the behind-the-scenes work that goes into it, the non-stories that happened. And the research is handed to people by professional librarians.'
Advertising by commercial genealogy websites also downplays the often hard slog of finding information, Lee-Ann says. 'Tracing your family story involves more than just using the Internet. Only some records are available online and there are still so many historical records that are not digitised.'
Historical research teaches host of new skills
Despite this, Lee-Ann feels conducting genealogical research has much to offer beyond the fascination and satisfaction of discovering stories of ancestors or places. Class members learn how to conduct research, use information technology, explore records and archives, assess the validity of their findings, and learn about social history and geography.
Teaching people the technological tricks involved is one part of the course, but developing patience and persistence is another. Historical research is a subject where many answers seem to lead to more questions, Lee-Ann says.
Not surprisingly, family history can re-ignite an interest in learning, especially for people who were disinterested or felt disconnected from the kind of history taught at school.
Learning about the era in which family members lived and worked, discovering stories of migration and struggle can increase empathy and a sense of kinship.  Finding out the stories of family members and communities helps people appreciate the events that have shaped their own history and surroundings.
'Finding out more about the past helps you to see the present differently,' Lee-Ann says.
This year National Family History week will run for the whole month of August 
---
Included in Categories