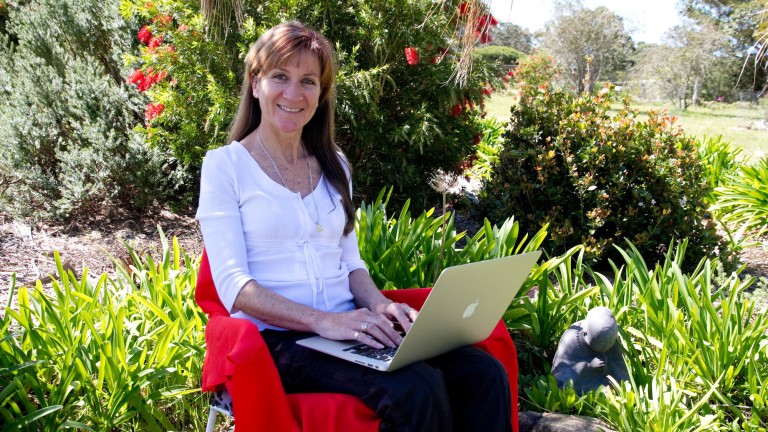 Vicki Mennie, ABC Open contributor, lives near Moruya a small rural community on the far south coast of NSW, where the large local population of kangaroos almost equals the number of residents.
A former hairdressing teacher, Vicki jumped at the chance when she saw the ad for ABC Open's 500 words writing workshop at a library in a nearby town. 'I thought 500 words? That's a good way to get started.'
ABC Open producer Vanessa Milton asked Vicki and the seven others who'd expressed interest to bring along some writing on the theme of 'a scary moment'.
'In the workshop Vanessa really broke the writing process down and explained how to keep an audience interested. I learned you have to think about how to keep the story moving, that it's important not to rabbit on, to underwrite instead of overwrite and to show rather than tell.'
Vanessa encouraged Vicki to submit the story to the ABC Open website. All submissions to ABC Open are moderated for errors and to make sure all legal obligations are met before a story goes live.
The resulting story, 'Drop the pack and run' was published on the ABC Open website soon afterwards.
'A month or so later Vanessa called to ask if she could record and produce my story for a storytelling event as part of The Candelo Village Festival. I was stunned. I had no idea it was that interesting. It gave me confidence and courage to write and put myself out there and pursue writing.'
Being part of a community, sharing stories that matter to her and challenging herself to create and learn are the things that keep Vicki motivated and involved.
Three years, five more workshops and twenty published stories later, Vicki says she continues to learn a lot about writing as well as about herself.
'In real life people tell me I'm funny, that I'm a natural born comedian. But writing stories brings out the other side of me. On paper I am more serious, reflective. It's made me realise I probably use humour to survive life's ups and downs. Writing is definitely cathartic. And if one of my stories can help anyone else deal with the similar issues and make them feel they are not alone, then it's worth it.'
Having an audience and a purpose keeps Vicki motivated and learning. Each month ABC Open promotes a theme to inspire contributions. Vicki says writing 500 words on a topic is good discipline.
Her advice to anyone in regional Australia who hasn't gone to an ABC Open workshop 'Get there as soon as you can. Don't be afraid. ABC Open staff are there to support and help. What have you got to lose? Absolutely nothing.'
The ABC Open website is a great resource for adult learners with stories about people, places, memories and experiences of life in rural and regional Australia.
Read more of our stories about ABC Open and interviews with producer and trainer Vanessa Milton and contributor Norm Clarke.
---
Included in Categories