Latest issue of Quest out now!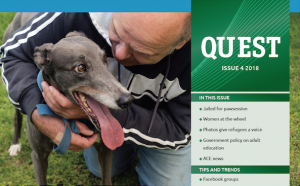 Our final issue of Quest is out now and we're ending the year on a high with a bunch of stories that celebrate the life-changing power of adult education.
This issue features stories about how a greyhound adoption program is transforming the lives of prison inmates, a women-only truck driving program is opening up opportunities for its students and taking photos can help give refugees have a say in policies that affect them.
Our board weigh in with words of wisdom on what the new federal government's priorities should be when it comes to adult education and you can read a round up of adult education news from around Australia.
The common thread in this issue is how adult education develops people's confidence in taking on challenges and overcoming disadvantage and how important the organisations behind these kinds of programs are.
We hope you enjoy it and have a safe and happy festive season.