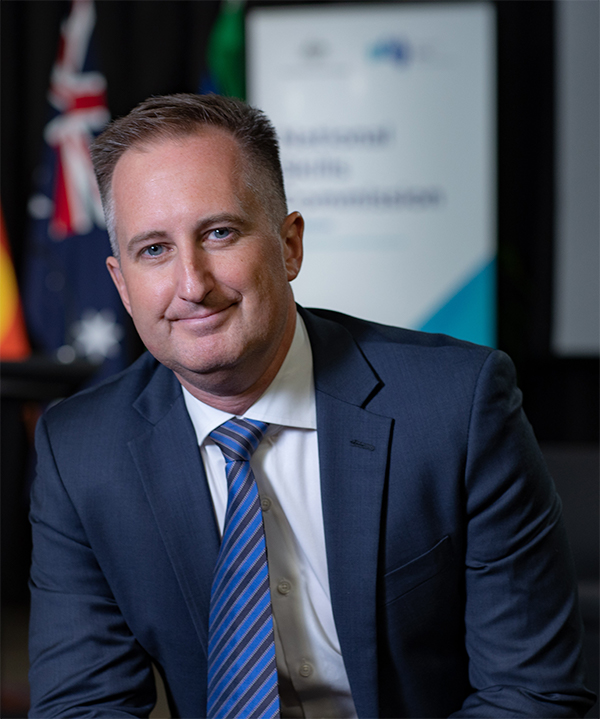 Adam Boyton, National Skills Commissioner
Adult Learners' Week 2021 urges us to 'change our story'. The National Skills Commission (NSC) is providing new intelligence which could help people do just that by providing insights into the jobs and skills needed for the future.
At the NSC we provide expert advice and national leadership on the Australian labour market and current, emerging and future workforce skills needs. We both create and analyse data to produce insights to support educators, employers and jobseekers to make better decisions.
Our Skills Priority List, released in June, shows where there are occupations in shortage across the country. Our five-year employment projections (to 2025) show which industry sectors and occupations will see the most growth. And our Australian Skills Classification looks at the skills that make up jobs and identifies pathways between jobs.
The Skills Priority List was released for the first time in 2021. It provides advice on nearly 800 jobs, identifying those that are in shortage currently and their expected future demand – strong, moderate or soft. The technicians and trade occupational group have the highest proportion of skills shortages nationally (42%), examples of which are chefs, motor mechanics (general) and carpenters.
The next largest group experiencing shortages are professionals (19%) – which includes accountants (general), early childhood teachers and developer programmers.
Other shortages exist in the occupational groups of machinery operators and drivers (17%), managers (12%), and community and personal service workers (8%), such as aged and disabled carers.
Employment projections to 2025
Employment is projected to increase in 17 of the 19 broad industries over the five years to November 2025.
Health Care and Social Assistance is projected to grow the most, followed by Accommodation and Food Services, Professional, Scientific and Technical Services, and Education and Training.
Together, these four industries are projected to generate over 64% of total employment growth over the five years to November 2025.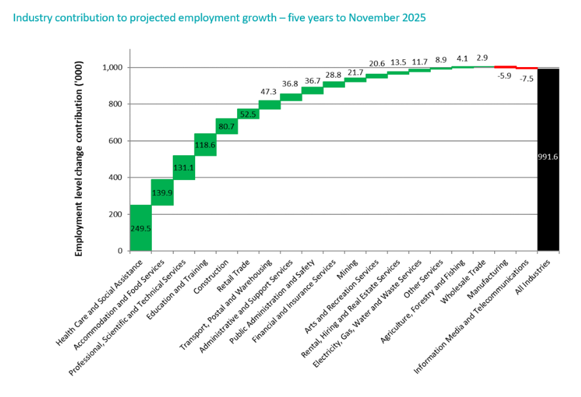 That said, future employment growth is not just confined to these areas. Our five-year employment projections show very strong growth for professionals (up by 439,500 or 13.2%) and community and personal service workers (up by 186,400 or 14.6%). This reflects the strong growth expected in the services industries that are the leading employers of workers in these occupational groups.
Together, these two occupational groups are expected to account for more than 60% of total employment growth over the next five years.
At a more detailed level, the jobs projected to have the largest increases in employment are aged and disabled carers, registered nurses and software and applications programmers.
Some occupations are expected to see lower employment growth due to ongoing challenges, such as technological change. Some of these occupations are from the clerical and administrative workers groups, where work is routine and susceptible to automation. These include secretaries, retail managers and personal assistants.
Australian Skills Classification
The NSC is also looking to better understand the skills needed within jobs.
The Australian Skills Classification (ASC) is a new tool which takes 600 jobs and identifies the skills that make up those jobs. These skills fall into three groups:
core competencies – which every job requires. For example, digital engagement, problem-solving, and communicating with one another.
technology tools that are used in a job.
specialist tasks describe the day to day work within a job.
Skills that are like one another are clustered together. The ASC groups 1925 specialist skills into 279 skills clusters. These are in turn grouped into 29 skills cluster families. So it's possible that if someone can do one type of skill in a cluster, they can likely do the others. This offers a way of looking at skills that are transferable between jobs.
Our five-year employment projections tell us that aged and disabled carers will see the most jobs growth. But our skills cluster-based analysis shows that the largest increases in hours worked will be:
Undertake food service activities (reflecting in part a bounce-back from still depressed levels on account of the pandemic)
Communicate and collaborate
Provide customer service and communicate information
The skills clusters with the fastest growth are likely to be:
Test computer or software performance
Resolve computer application or system issues
Develop or administer testing routines or procedures
If we take the skill of 'communication and collaboration', based on our projections, it is expected to see both rapid growth in percentage terms and number of hours. That in turn reflects the widespread importance of these skills in a range of occupations into the future. Being armed with this knowledge might assist us to 'change our story' as we continue to apply lifelong learning to our journeys.
To learn more about the work of the National Skills Commission, visit nationalskillscommission.gov.au
---
Included in Categories