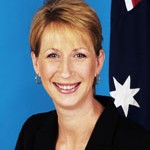 Adult Learning Australia launched Lifelong & Lifewide: Stories of Adult Learning at Sydney Community College on the 17th of April. Sally Thompson, CEO of Adult Learning Australia, introduced the Hon. Sharon Bird MP who officially launched the book.
The Hon Sharon Bird MP
Minister for Higher Education and Skills
Ms Bird talked about the value of adult learning in terms of 'creating a fair, inclusive and productive society'. A full podcast is available below. 
Panel discussion
Panelists: The Hon Sharon Bird MP, learners Sahar Elsemary and Mick Goss, Professor Barry Golding (President Adult Learning Australia) and Garry Trainor (Sydney Community College)
The discussion panel was lead by Sally Thompson. Key discussion points included the challenges associated with identifying effective learning programs; the importance of emphasising agency and the benefits of informal and collaborative learning. A full podcast is available below.
00:01 – Introduction
02:32 – "Dads learn differently." Mick Goss
03:50 – The legacy of poor schooling. Dr Barry Golding
06:18 – Returning to learning in a new country. Sahar Elsebery
09:19 – Women's Microbusiness Course. Garry Traynor
12:30 – How governments identify effective programs. Minister Bird
15:44 – The key features of a good adult education program. Sahar Elsebery
17:52 – Teachers perspective on a good learning program. Joanna Maxwell
19:20 – Struggling with low levels of literacy. Mick Goss
22:48 – Intergenerational literacy programs in Australia. Minister Bird
26:10 – The importance of agency in adult learning. Dr Barry Golding.
 [nggallery id=3]
---
Included in Categories