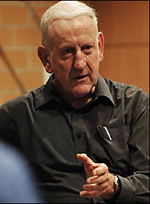 Dr Peter Willis has a long history of research and exploration of innovative forms of informal learning. The Centre for Convivial Backyard Civilisation has emerged from this.
This Adelaide-based group has been meeting for more than a year to discuss applied practice and informal 'action learning' projects that promote convivial backyard civilisation in small scale groups and institutions.
In our next webinar, Dr Willis will map some of the informal existential and functional learning activities that the group has been pursuing, and will explore ways to foster creative learning responses.
Dr. Peter Willis is a long-time ALA member. He has had experience in Community development and Adult learning with city youth groups, Aboriginal groups in outback and central Australia and University Groups at the University of South Australia. Peter is an adjunct Senior Lecturer at the University of South Australia
---
Included in Categories