Stories of adult learning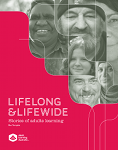 Lifelong & Lifewide: Stories of Adult Learning is a collection of ten personal stories that document life change through adult learning. The stories span all states and territories of Australia, all ages and a great diversity of communities and issues, including disabilities, Indigenous adult learning, adult literacy and migrant learners.
Lifelong & Lifewide draws an intimate portrait of the value of adult learning to individuals and their communities. It will be launched on:
Wednesday April 17th at 10 am – 12:00 pm
Sydney Community College, C Block Hall,  2A Gordon Street, Rozelle NSW 2039
The event will be hosted by our Ambassador Julie McCrossin who has also written the Foreword.
All ALA members are invited to attend.
RSVP: info@ala.asn.au
---
Included in Categories