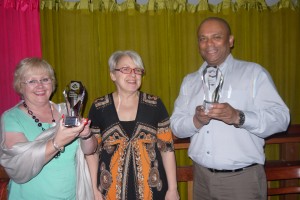 Adult Learning Australia congratulates the winners of its 2012 annual awards, presented at the recent national conference in Byron Bay.
Australian Adult Educator of the Year
Sue Ross
WEA, Adelaide
Sue has been the CEO of the iconic WEA in Adelaide for many years, during which time she has been a fierce advocate for non-formal learning. Sue has always believed in providing a wide range of programs at the WEA targeted at all adults through the lifetime.
Under Sue's watch the WEA is always developing new and innovative programs. Sue has grown the combined travel and study program from an idea into a rich learning experience for hundreds of adults. Recently Sue partnered with BRACE to include some accreditation while still always maintaining the focus on non-formal lifelong learning.
Australian Adult Learning Program of the Year
Common Ground Learning Precinct
Centre for Adult Education (CAE), Melbourne
The Common Ground Learning Precinct is an ACFE funded project that provides pre-accredited learning opportunities to some of the most marginalised members of the Melbourne community. The program has seen real changes in the learners' engagement, confidence, independence and self-esteem as well as increased involvement in the community, further training and work.
While the classes are based on a foundation of developing employability skills such as building confidence and problem solving, the explicit focus is on concrete, achievable skills and products such as cooking food, learning to read, making a video or learning new trade skills. E-literacy is a particular focus throughout the program.
As part of this project CAE is developing a 'how-to' resource pack for organisations wishing to establish programs for significantly disengaged learners.
Australian Community–Based Learning Provider of the Year
Coonara Community House, Melbourne
Coonara's community development philosophy and adult education pedagogy are woven together with technology to provide the local community with a blended delivery of learning opportunities. To date some of the unique outcomes have included; a weekly television program for Channel 31, a 32-page local newspaper with a circulation of 6,000, the publication of two local history books, a community food garden and the regular celebration of special events in the local community.
Delivery has grown from exclusively classroom-based to include E learning and workplace training in four additional sites including the Northern Territory. The diversity of students has increased with a greater number of CALD learners and learners with a disability, youth and indigenous learners.
---
Included in Categories