The South Australian state Government is allocating a further $3.25 million next financial year as part of its ongoing Skills for All commitment to create an extra 6,000 training places aimed at increasing adult literacy and numeracy over six years.
Employment, Higher education and Skills Minister, Tom Kenyon said this investment in community education would give adults the opportunity to improve their foundation skills leading to better prospects of further training and finding a job.
"Accredited training through Adult Community Education (ACE) programs will be available in a range of literacy and numeracy skills, such as reading, writing, listening, speaking and maths," Mr Kenyon said.
"The training will also include other skills relating to improving employment prospects like problem-solving, self management, collaboration, and computer technology.
"The funding—on top of this year's allocation of #3.1 million—will provide 14,000 training positions to be offered by community -based, not for profit training providers at more than 80 sites across the state," Mr Kenyon said.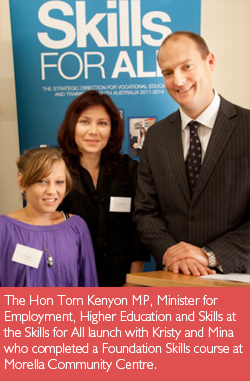 "ACE providers can apply for a share of the funding to support adults who face economic and social barriers to finding work and gaining access to training to take part in community-based learning or further education and find work.
"The ACE sector is an important starting point for people who may consider vocational education and training and university study to be initially out of their reach.
"Adult Community Education providers offer programs to help adults get basic workplace skills in small, friendly groups, or even in one-on-one coaching situations.
"The ACE program is part of the State Government's Skills for All reforms which aim to revitalise vocational education and training in South Australia," Mr Kenyon said.
---
Included in Categories