Presenter:
Various
When:
February to September 2023
Duration:
1 hr each
Cost:
Free for members of ALA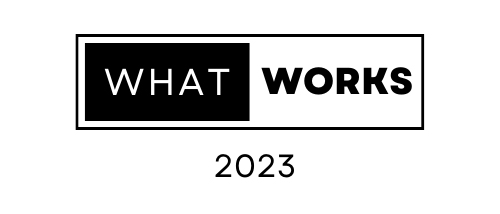 What Works 2023 will focus on adult literacy and learning practice.
This eight-part online professional learning series brings together experts in the field to explore effective adult reading, writing, and learning strategies  – with a strong emphasis on fun and engagement.
Each session will be co-facilitated by Ros Bauer and Jo Medlin with presentations from a combination of our expert presenters, addressing how to teach a particular aspect of literacy and learning, covering strategies for use in individual, small or whole group work.
Also included will be a special focus event on Aboriginal English, which has its own structure and rules, and is spoken by an estimated 80% of Aboriginal and Torres Strait Islander people.
What Works 2023 will:
explore opportunities for incidental literacy development
investigate Aboriginal English and English language and literacy development
discuss the pros and cons of phonics approaches in literacy education
explore practice engagement theory.
---
8 innovative workshops

Workshop 1: Applying practice engagement theory to developing literacy and numeracy
Date: Thurs 16 Feb – 11.00–12.00 pm AEDT
Presenter: Dr Stephen Reder and Keiko Yasukawa

Dr Reder shares how practice engagement theory can help us understand how adults' use of skills in everyday life affects their lifelong and life-wide learning, their social and economic outcomes, and their overall wellbeing.

Workshop 2: Using sport to kick more goals in numeracy
Date: Wed 22 March 1.00 – 2.00 pm AEDT
Presenter: Dave Tout

This session will focus on practical and hands-on approaches that use sport and recreational contexts to encourage learners to engage with and understand maths and numeracy concepts. Sport and recreational activities often reveal a range of quantitative, spatial and statistical (and even algebraic) numeracy knowledge and skills embedded in people's everyday life. Come along and learn how to integrate sport and recreation into your classrooms.

Workshop 3: Reading and writing strategies
Date: Wed 26 April 1.00 – 2.00 pm AEST
Presenters: Isabel Osuna-Gatty, Jodie Hummerston and Jan Hagston

A panel of experts presents practical strategies that support adults in a Foundation Skills context and others on Individual Learning Programs for everyday literacy purposes.

Workshop 4: Phonics as part of whole language
Date: Wed 17 May 1.00 – 2.00 pm AEST
Presenters: Lyn Wilson – TAFE NSW and Meg Cotter – Wyndham Community & Education Centre

Whole language including the role of phonics in learner centre delivery.

Recording coming soon.

Workshop 5: Learning strategies
Date: Wed 7 June 1.00 – 2.00 pm AEST
Presenters: Dave Bauer – LLN teacher

Understanding the importance of targetted learning strategies and their role in the adult learning context.

Workshop 6: Aboriginal English and code-switching
Date: Wed 5 July 1.00 – 2.00 pm AEST
Presenter: Robyn Ober – Batchelor Institute of Indigenous Tertiary Education

In celebration of NAIDOC week. More details to follow.

Workshop 7: Learning resources and tools
Date: Wed 9 August 1.00 – 2.00 pm AEST
Presenter: Lidia Lipkiewicz

This session will focus on learning goals, resources, who can help, practical tools, exploring options, and learning assessment. More details to follow.

Workshop 8: In celebration of International Literacy Day
Date: Fri 8 Sept 1.00 – 2.00 pm AEST
Panel presentation:


In recognition of International Literacy Day. More details to follow.
---
Bios
Facilitator
Ros has extensive experience in adult education as a language literacy numeracy practitioner. She was the winner of the 2013 Australian Training Awards Excellence in Adult Language Literacy and Numeracy Practice and a recipient of an Executive Fellowship through the Australian Endeavour Awards that included a professional learning experience in Scandinavia. Ros has worked as part of the NT LLN Network Group and an educational consultant to the Warlpiri Youth Development Aboriginal Corporation. She is currently Head of Department – Career Pathways, Aboriginal Languages & Employability Skills at TAFE NSW.
Bio
Presenter
Dr Reder is Professor Emeritus of Applied Linguistics at Portland State University. He has an A.B. from Stanford University and a Ph.D. from the Rockefeller University in New York City. His career has involved research, teaching and service activities in education, workplace and community settings. Dr. Reder's research focuses on adults' literacy, numeracy, digital literacy and second language development. He has developed Practice Engagement Theory that helps us understand how adults' use of skills in everyday life affects their lifelong and life-wide learning, their social and economic outcomes, and their overall wellbeing.
Bio
Presenter
Dave is a Senior Research Fellow in numeracy and mathematics at the Australian Council for Educational Research (ACER). He is an experienced LLN educator who is particularly interested in making mathematics relevant, interesting and fun for all learners, especially those disengaged from mathematics. He has worked in schools, TAFEs, community providers, universities, industry and national education organisations, and has written many numeracy and mathematics teaching, assessment and professional development resources for youth and adults, including curriculum for the CGEA, VCE and VCAL in Victoria. He is an author of the Australian Core Skills Framework (ACSF). Dave is also chair of the Numeracy Expert Group for the OECD's international survey of adult skills (PIAAC) and is an appointed member of the Education IRC which is responsible for the TAE and the FSK Training Packages.
Bio
Presenter
Dr Keiko Yasukawa is a lecturer and researcher in the School of International Studies and Education at UTS. Her work focusses on adult education, literacy and numeracy. Keiko has a strong interest and commitment to educating research-informed teachers who have both theoretical resources and practical expertise to exercise professional judgement and agency in their workplaces and support their learners. Engagement in the professional fields of adult education is an important part of Keiko's work. Keiko has held leadership positions in the NSW Adult Literacy and Numeracy Council since 2009. Through her involvement in these organisations she has undertaken a range of policy advocacy and professional development work in partnership with practitioners.
Bio
Presenter
Isabel Osuna-Gatty is the recipient of the 2016 Australian Training Awards' Excellence in Language, Literacy and Numeracy Practice. Isabel was the national Workplace English Language and Literacy broker developing commonwealth-funded projects in rural and remote communities across Australia. She worked in the development of training packages and related resources for the Community Services and Health Industry Skills Council. Isabel worked as a Learning and Development Consultant/Internal Assessor developing an array of training and assessment tools before becoming the Senior Lecturer for the Community Services and Literacy, Numeracy and Life Skills programs, for an Indigenous provider in the Northern Territory. Isabel was part of the team who co-wrote the latest version of the Foundation Skills Training Package. She also developed assessment tools for the Northern Territory Department of Education and worked as an external assessor and trainer for the SenaiNT English Language Centre in Timor Leste. Her skills extend to instructional design, writing specialised training resources and assessment tools. Isabel currently works developing accessible and inclusive resources and spaces. Isabel has a Master Degree of Social Work and Analytical Psychology, a Graduate Diploma in Counselling, a Graduate Certificate in Teaching English as a Second Language, a Certificate IV in Training and Assessment and the Foundation Skills in Vocational Practice Skill Set.
Bio
Presenter
Jodie Hummerston is an experienced adult Language, Literacy and Numeracy (LLN) practitioner, delivering both accredited and non-accredited LLN training. Her key focus is on improving reading and writing capability for organisations. She likes to work with all levels of the organisation, helping trainers and frontline managers build their writing and communication skills and work with workers to build their reading, writing and numeracy skills. Jodie is passionate about using plain English in training resources and workplace procedures. In this capacity, she has developed a number of successful workplace programs and resources for clients. She spent 12 years developing training packages and resources for the meat industry, followed by five years in an RTO and consulting firm. Jodie now works as an independent consultant. She spends most of her time writing and editing training resources for a range of clients, including RTOs, industry associations, and Aboriginal organisations. She is also teaching reading, writing and digital skills to Aboriginal learners in remote communities in the Northern Territory, on behalf of Batchelor Institute and the Warlpiri Education and Training Trust.
Bio
Presenter
Jan Hagston taught in secondary schools before becoming involved in adult and youth literacy and applied education. She has broad experience in curriculum and materials development, professional development, and research and has worked across education sectors - schools, TAFE institutes, ACE providers, universities, and workplace programs. Jan has been closely involved in learning programs for young people, including VCAL and has recently written materials for the new VCE VM. She is now a consultant, working through Multifangled and is mainly involved in writing materials for young people. As someone who isn't a good speller, she became interested in how people learn to spell, which led to the development of the teacher and student resources Spelling - a strategic approach (co-authored with Lee Kindler)
Bio
Presenter
Dr. Robyn Ober is a Mamu/Djirribal woman from North Queensland and a respected researcher in Indigenous educational leadership and both-ways teaching and learning. Her doctoral work investigated identity and culture expressed in and through Aboriginal English. Dr Ober's expertise has been called upon in numerous consultancies on education delivery, both-ways education, Indigenous research methodologies in the Northern Territory, national and international indigenous educational contexts.
Bio
Presenter
Dave Bauer is a Language Literacy Numeracy Teacher from NSW. He has been working in the adult learning sector since about 2013 in a variety of settings. These include formal and non-formal settings, youth engagement programs; and he has combined teaching and learning with youth worker and other community service roles. He has worked in remote central Australia and is currently delivering on foundation skills programs in Wagga, as well as other community programs such as Driver Licence Education and Rent it Keep it, in collaboration with the Department of Communities and Justice. Dave's main teaching and learning group are young people and he likes to use technology and music as a way of engaging students, incorporating a diverse and creative approach to learning. Through his experience as an LLN teacher, these creative engagement strategies have improved student retention and helped with continuity of their studies.
Bio
Presenter
Lidia Lipkiewicz is a VET Ambassador with over 20 years of teaching experience in the Adult Education sector, specifically in the Language, Literacy & Numeracy area. Lidia has worked with disengaged youth from some of the most disadvantaged suburbs in Australia; she has developed and implemented highly successful Pathways programs across Adelaide and after a stint as an Educational Manager, she returned to the classroom to work with English language students. It was here and using project based methodology that Lidia together with her students developed and created a significant drama production - 2 ESL classes were involved, a team of 4 teachers and it was all put together in just under 11 weeks. Lidia then went on to develop her Plan a Project program, which was delivered over and over again with lower level ESL students –it was a SEE funded program and no one was more surprised than she was when many of her students started to secure meaningful employment. Over the last few years, Lidia has worked with LLN practitioners both at the local level as well as nationally, and very recently she has become involved with a small group of volunteer teachers and tutors who are teaching English to displaced Ukrainians (it's early days, however, watch this space!) Lidia is deemed by many to be a language, literacy and numeracy specialist but it is her work with project based learning that has earned her the recognition and respect of both her peers and of those in the broader LLN community and VET sector. In 2018 Lidia won an Australian Training Award for Excellence in Language, Literacy, Numeracy Practice. She is passionate about her craft; is always seeking new and varying challenges, and she looks forward to sharing with you 'What works in her classroom.'
Bio
Presenter
Lyn Wilson has extensive experience in successfully delivering a highly diverse range of language, literacy and numeracy programs for TAFE NSW. As Team Leader Literacy in Sydney Region, Lyn brings together several teams across the Metropolitan area to design foundation skills programs that meet community needs, industry and workplace needs, as well as the core LLND needs of vocational students facing their own associated challenges to course complete. Over many years she has also had a major focus on supporting Aboriginal student outcomes through customised pre-employment programs into trade and other professional careers that address the LLND challenges inherent in competitive recruitment practices. Lyn has recently worked with the Sydney Region Literacy Team and other Team leaders across TAFE NSW on the design and development of courses that allow Literacy learners the opportunity to focus on individual learning goals and customised learning plans, recognising best practice in Adult Literacy pedagogy. Lyn is also current chair of the Reading Writing Hotline Steering Group.
Bio
Presenter
Meg is an adult learning, literacy and numeracy specialist working in adult and community education environments. She is currently on the Australian Council for Adult Literacy committee and was formerly President of the Victorian Adult Literacy Basic Education Council. Meg currently works at Wyndham Community & Education Centre as the Community Strengthening & Education Officer.
Bio
To register
Click the 'register now' button under each session as they become available.
These sessions are free for members of ALA, and $65 per session for non-members. Read about becoming a member here.
Attendees will receive a Certificate of Attendance on request and can use their participation as a reflection for Developing Vocational Currency and Competency.
---
---
Included in Categories