Presenter:
Annette Foley and Barry Golding
When:
Wednesday 25th August 2021 @ 1pm AEST
Duration:
1 hr
Cost:
Free for members | $50 non-members
This presentation will draw from recent research on Men's Sheds in regional and remote Victoria.  It will reference a case study of a community-based Shed in a disadvantaged rural location to discuss the role local community learning can play in responding to and developing resilience in the face of locally experienced global disasters. The discussion will include a conversation about how small communities of practice can exercise agency to create a unique, place and needs-based form of 'bottom up' lifelong and life-wide learning.
ANNETTE FOLEY
Annette is an Associate Professor of Adult and Vocational Education at Federation University Australia and the current president of Adult Learning Australia. She has worked for over 30 years as an adult educator in TAFE, higher education, adult community education, and the private training sector. Before Annette commenced her academic role at Fed Uni, she had first-hand experience as a TAFE manager and CEO in a VET/ACE and youth services organisation, where she worked in a regional community and liaised with industry, community, and local government agencies to develop education and training programs for youth and older learners.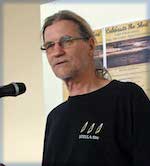 PROFESSOR (ADJUNCT) BARRY GOLDING AM
Professor Golding is associated with the School Education, Federation University Australia in Ballarat. Barry has extensive research experience in vocational, adult and community learning His focused mainly on equity and access to learning in less formal community contexts. His recent international emphasis has been on men's informal learning through participation in community organisations. He has completed many national and international studies of older men's learning and wellbeing through community participation including through Men's Sheds internationally. His recent Australian field research has included studies of alternative schools and vocational education for young people in regional and rural settings. Barry is honorary Patron of the Australian Men's Sheds Association, former President of Adult Learning Australia and in 2016 was awarded the Member of the Order of Australia (AM).

---
---
Included in Categories