Do you know an older Australian who has a thirst for knowledge, but is being held back because they don't know how to use a computer or the Internet?
Seniors can gain the confidence and skills needed to use new technology through the Australian Government's Broadband for Seniors initiative.
Since 2008, the Australian Government has committed more than $25 million to provide seniors with free access to computers, the Internet and training at around 2,000 Broadband for Seniors kiosks across Australia.
Kiosks are located in places that seniors regularly visit or that provide existing services, such as community centers, retirement villages, libraries and community clubs.
Over 250,000 of Australia's seniors have benefited from the guidance and ongoing support provided in a friendly face-to-face environment by volunteer tutors, on topics such as how to email, surf-the-Internet, Skype and how to stay safe online.
Broadband for Seniors is delivered by Adult Learning Australia in partnership with U3A Online and Australian Seniors Computer Clubs Association.
For more information, or if you would like to know how to become a volunteer tutor at one of the kiosks, go to the Broadband for Seniors website.
BFS Professional Development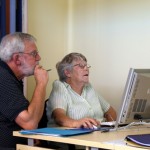 Adult Learning Australia has been supporting the BFS project by conducting a series of webinars that have been specifically designed for the BFS volunteer tutors. You can register your interest in participating by checking out the Upcoming Webinar Sessions. Or you can listen to past Recorded Webinar Sessions.
We use Blackboard Collaborate web conferencing for our BfS online sessions. Here are some helpful resources that you should read before you join your first webinar.
Join our BfS google group or check out the resources available on the BfS wiki.